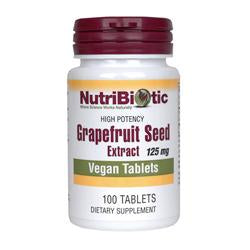 NutriBiotic Grapefruit Seed Extract-tablets, 125 mg. 100 Tabs
Each tablet is the equivalent of 12 - 15 drops of NutriBiotic liquid concentrate. Made with Grapefruit Seed Extract from "Certified-Organically-Grown" grapefruit, organic brown rice protein as a filler, and vegetable glycerin as a binder.
100 Tabs per bottle.
INGREDIENTS Grapefruit Seed Extract (GSE) 125 mg, rice protein fiber, (filler), vegetable cellulose (binder), vegetable stearine (lubricant), guar gum and vegetable coating.
Contains no soy, milk, egg, yeast, corn, wheat, sweeteners or preservatives. Completely vegetarian.Click here for more GSE info.