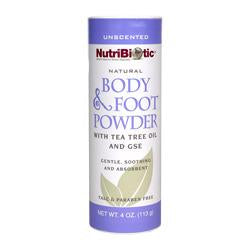 NutriBiotic Body and Foot Powder 4 oz. - Unscented
NutriBiotic Natural Body and Foot Powder contains grapefruit seed extract and tea tree oil. Both used by healthcare professionals worldwide to help protect the health of the human body. This natural formulation is designed to promote healthy tissue and provide protection from unwanted skin conditions.
INGREDIENTS:Treated Corn Starch, Silicone Dioxide, Grapefruit Seed Extract, Tea Tree Oil.